Rec: Tuesday Indoor - Session 2
IMPORTANT UPDATE:
Games on Jan 4th have been cancelled due to a heater issue at Foote Field.
----
Happy New Year! Are you ready for Tuesday Indoor Session 2? We are!
Please read below for all the information about the upcoming league. Know we will be respecting all health restrictions as they evolve or arise.
SCHEDULE
Foote Field, Tuesdays, 7:00-9:00pm

Session runs January 4 to February 15, 2022 (7 weeks)

The schedule of games can be found

here.
We also recommend players download the RAMP Team App from Google Play or Apple App Store to access schedules, scores, and to communicate with their team if they are going to be absent.
TEAMS
Teams have been posted and you can find which team you are on here. If you have any issues seeing this information, please let us know as soon as possible by contacting admin@eupa.ca or messaging our Admin (Vicky Yeung) on Slack.
Given the number of registered players, we've made up 6 teams of 10 players each. Your team Ambassadors for the league are:
Team 1 - Kenny Bedecki
Team 2 - Vicky Yeung
Team 3 - Josh Pearce
Team 4 - Cameron Martin
Team 5 - Lyris Fiske
Team 6 - Rob Kaplen
The role of Ambassadors is to lead the team, help cultivate a high level of spirit in all games and to support beginners. If you have questions or concerns, feel free to reach out to your team Ambassador for help!
Please bring a dark and white jersey each night (home team wears light, away team wears dark. Please bring both jerseys each night in case you need to switch colours).
FIELDS / SETUP
The map of the set up is below. For this league, we are using the south half of Foote Field, setting up 3 fields. Know that there will be other programming running adjacent.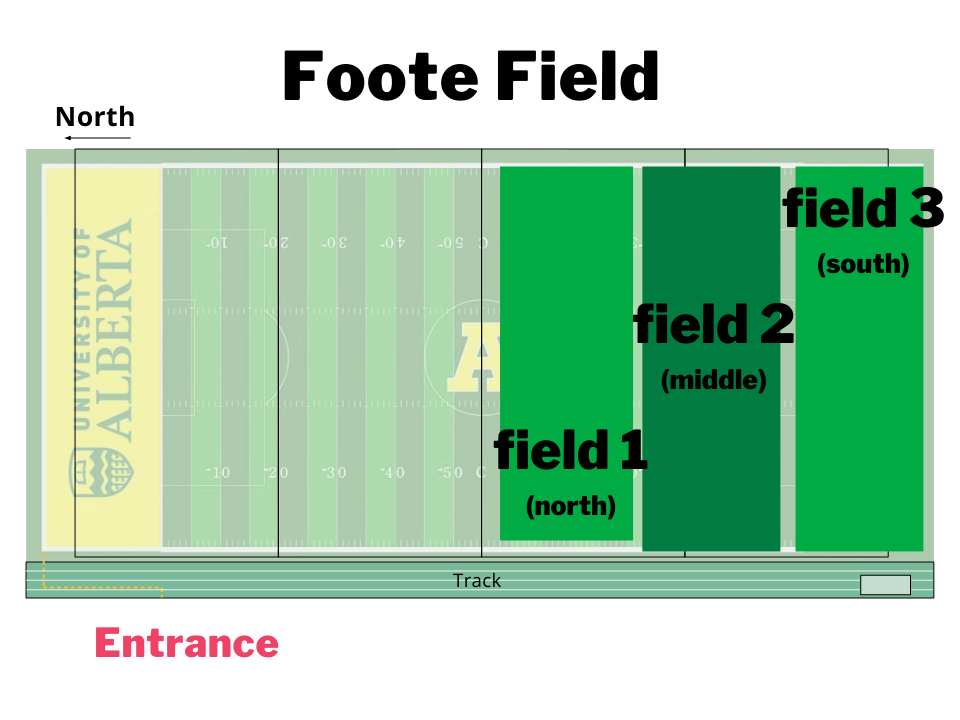 SPIRIT OF THE GAME (SotG)
Spirit of the Game is at the heart of Ultimate and is a defining characteristic of the sport. With no referees, Ultimate relies on the Spirit of the Game, placing the onus of sportsmanship and honourable play on the players themselves. Any questions or concerns related to a team's spirit can be directed to spirit@eupa.ca
FORMAT & RULES
This league will be 5-on-5 using the 12th Edition Rules, using the following default modifications:
Gender ratio: This will be determined based on the specific gender breakdown at the field. The target will be to alternate 3M/2F, 4M/1F but may be modified on a given day to suit the specific makeup of players at the field and ensure equal playing time for all.

Max stall count is 10.

Each team gets one 60 second timeout per half.

Default is pulls between points with a mirrored half time at the halfway point (finish the point, see timing above). Half time should not exceed 5 minutes.

Foot blocks are in, trick pulls are in - use your best judgement
Please note that these are only the default rules for the league. If the two teams want to agree on different modifications to be valid for their games (e.g. sub on the fly or speed point), they are welcome to make changes.
SUBS
If you will miss a night of play, please communicate that with your team either in person or through the RAMP App and look for a sub to take your place. Note that subs should be of a similar playing level to the player they are replacing and MUST have a 2022 EUPA membership to play.
Here are some ways to find a sub:
Post in the #subs channel on our EUPA Community Slack (click

here

to join, if you have any issues, please email

admin@eupa.ca

).

Post through our

EUPA Facebook Group

Ask your Ambassador/teammates to help you find a sub in person at league or through the

RAMP App

FACILITY REQUIREMENTS
The following has been forwarded to us from Foote Field regarding vaccine requirements and masks. Please be respectful of their rules as we want to be invited back to use their facilities in the future.
Vaccine Requirements - U of A Foote Field
All groups must abide by the U of A vaccine requirements which applies to everyone 12 and older. This information can be found on our webpage uab.ca/foote.
A proof of vaccine check will be completed by Foote Field staff for all rental groups entering the facility. Please be aware that a QR code and/or a Campus Ready pass alongside an ID will be the only acceptable proof of vaccination. Please come prepared with these documents to help speed the process of getting you into the facility.
Masking
Masks are required by everyone in the facility unless they are engaged in physical activity. This means you are not to remove your mask unless you are on your field/track. If you are leaving your activity space/no longer engaged in physical activity, masks must be put back on.
Thanks again for supporting EUPA programming. If you have any questions or concerns, do not hesitate to reach out through email or Slack.